Hey guys! Welcome to back to yet another Shoutout Saturday, my weekly series where I like to hype up/shout-out some things that have been making me happy throughout the week. This is actually more the highlight of, like, the last two or three weeks, because in reality I do not consume this much content in a single week. But anyway, here you go! I hope you enjoy.
Unseen
Okay, so, full disclosure I literally just finished binging this show a few hours ago. (There are only four episodes so far–so it wasn't too extreme, but still.) Anyway, I loved it so much, so I had to include it on this list. Unseen is told in slice-of-life snippets from the perspectives of people living among us, who are in some way aware of magic.
I am absolute trash for a well-done urban fantasy. I love, love, love the idea of magic casually existing amid the modern world, and how everyone seems to have a different take on what that might look like.
The sound design and production quality in general of this podcast have blown me away so far–I can't wait to see where it'll go next.
The Two Princes
I actually listened to this podcast ages ago, and was absolutely obsessed with it–but, like most of my sudden and uncontrollable obsessions, I grew out of it after a few days. However, they recently dropped their third season and it's kind of the best thing in the entire world, and basically just drop-kicked me into my Two Princes phase.
This podcast is pretty much the cutest thing ever–it reminds me a lot of the fantasy books I used to love when I was younger, but adapted to be relevant to an older audience–it deals with themes like dealing with your parents' expectations of you, or going off on your own and figuring out who you are separate of them. The two main characters, Rupert and Amir, are princes from two kingdoms, who meet in the middle of the woods while they're both on a quest to save their kingdoms. They reluctantly band together, and eventually fall in love. Their relationship is so beautiful, and if you don't get extremely emotional thinking about their relationship, I don't trust you. All I want is for them to just be happy, with their little family of a dragon named Porridge, and a dog named Fitzroy.
Also, it's a musical–and all the songs are really good, and there are lots of exciting adventures, and it's just so freaking good and always makes me smile. Please, I'm begging you, listen to it.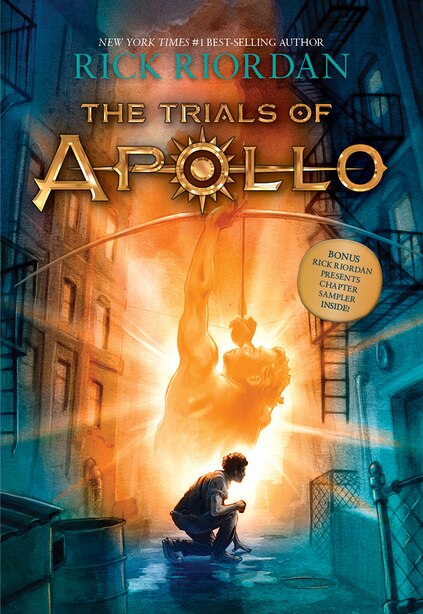 The Trials of Apollo
So, growing up I was the biggest Percy Jackson kid. I loved pretty everything Rick Riordan touched, and would just reread all his books over and over again. But there's so much stuff in them I never really appreciated as a little kid.
I didn't really recognize how much representation there was in these books, or how cool it was for a middle-grade fantasy series to tackle issues that most authors in that genre steer clear of. And now I'm older, to be honest, I feel like these books are way better. (Partially because of the nostalgia factor, let's be honest.) It makes me so happy that there are books like this out there, where every kid can see someone like them.
I read the first two books in the Trials of Apollo series ages ago, but at the time there weren't any more books out, so I kind of just forgot about it. Recently though, I delved back into the series now it's over, and I've been loving it so much. It's smart, and hilarious, and heartbreaking, and I love it so much.
I think, beneath it all, the core of these books is a place for kids who don't feel accepted by society at large–where they can feel understood, and loved, and at home. I remember how much that helped me when I was younger, and honestly, it's still so nice even now. They're one of these books that I think can be interesting the people of any age. It was so fascinating to dig back into them from a more mature perspective, and I think it'll be so fascinating to read them again when I'm in my twenties and see what I think of them then.
So, yeah, in conclusion, these books are amazing, and you should check them out, no matter how old you are.
Kid Krow
I recently stumbled across this album, and I'm absolutely obsessed with it. (The amount of times I've listened to it is honestly kind of embarrassing.) All of Conan Grey's music is absolutely breathtaking, and I can't believe I didn't listen to it sooner. It's so unique, and gorgeous, and strange. I don't know how to even put it into words, but god, I love this album so much.
Public Void
My friend (who has absolutely immaculate music taste, for the record) recommended this album to me, and I've basically had it on loop ever since. It's strange and dark and beautiful, and it's probably the most Gen-Z album in existence.
I've never really found art or music that tackles the issues this album does, in the way it does, before? It's so refreshing and depressing and beautiful, and just really therapeutic to listen to. The music just has an incredible way of transporting you into the artists' mind, and allowing you experience her feelings as your own–which is just about my favourite thing in pretty much any form of art.
---
Okay! I think that's about all I have for this week. I hope you check out all of these things, I love them to the moon and back! Stay safe, take care of yourself, and I'll see you next week.
Lots of love,
Lorna